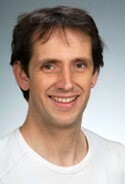 Jean-Luc Paratte has been a licensed sports teacher since 1996 having qualified at the prestigious Institute for Sports at the University of Basel, Switzerland.
Since 1999 successful personal trainer in Heidelberg. Since 2012 certified Naturopath.
He has been a qualified NST practitioner since 2000 and uses NST as his main clinical therapeutic technique.
Qualification: Basic seminar teacher
Location: Heidelberg
Country: Germany
Telephone: +49 (0) 6221 – 6 50 13 66
Email: info@kinesan.de
Website: www.kinesan.de