Angela Lane
Introductory SEMINAR TEACHER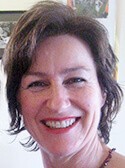 Angela runs a private practice in Naturopathy, Acupuncture and Remedial therapies, enhanced by NST. She has also been teaching at the Southern School of Natural Therapies for over 20 years. Subjects include Bowen therapy, Massage techniques and Supervision at the THINK Wellness clinic.
Angela is a dedicated teacher who aims to involve students in a dynamic experience, which has value for them as individuals and results in an appreciation of the rich layering and subtlety of the body.
Qualification: Introductory seminar teacher
Location: Brunswick, Melbourne
Country: Australia
Telephone: +61 3 9386 7177
Email: angelane1@optusnet.com.au