Introduction
The NST Spinal Integration Home Study Courses have been constructed using tried and proven learning strategies, to equip students with the necessary tools to quickly learn and skilfully implement NST Spinal Integration, into professional clinical practice.
There are three levels of Home Study courses that faithfully follow their counter-parts in the live seminars. They are the Osteospinal OS, OS Advanced and Proto Plus.
Note: The Deep Cures seminar must be completed in a live seminar setting.
Note: There is no Home Study course for the Introductory seminar as this is almost identically represented within the Osteospinal OS Home Study course's Dynamic Body Balance.
Overview
All Home Study courses follow a five step training protocol as follows:
1) Viewing dedicated instructional videos or DVD of the relevant material – For reference please see: https://www.nsthealth.com/dvd-video-training/
2) Studying the workshop manual supplied. Note: The manual is identical to the live seminar manual.
3) Completing a 100 multiple choice verification exam in which a pass mark of 70% must be achieved.
4) Completing case studies using record forms provided, of no fewer than five patients who have all received at least two NST sessions.
5) Producing a simple self-video of approximately 15-30 minutes duration of an integrated session being performed.
Note: In addition to the above course materials, a comprehensive Home Study instructional manual will be provided.
Note: All home study courses are completed with a live critique by an NST Teacher using a Zoom or Skype video link up. Specifically, the teacher will critique the exam, case studies and self-video, offering helpful clarification and points for improvement where necessary. Time allowed  for this meeting is 1.5 hours, however additional time may be negotiated.
OSTEOSPINAL OS – HOME STUDY COURSE
The NST Osteospinal OS, Home Study course is based upon NST's world renowned 'operating system' which is the platform from which the whole NST system is launched.
The core component of the 'operating system' is the Dynamic Body Balance designed to integrate Lumbar, Thoracic and Cervical spines.
The 'operating system' also contains a further twelve interfacing procedures that dovetail into the Dynamic Body Balance creating fully integrated Osteospinal operating system.
The twelve interfacing procedures belong to a section of the 'operating system' called the 'Categories' wherein twelve procedures are grouped into five logical categories as follows.
Upper Extremity > Shoulder and Elbow & Wrist procedures
Lower Extremity > Hamstring, Knee and Ankle procedures
Thoracic > Lung, Breast and Heart procedures
Central Base > Sacrum, Coccyx and Pelvic procedures
Cranial > Temporomandibular Joint – TMJ procedure
The NST Osteospinal 'operating system' can be successfully applied to a myriad of structural and health conditions including back pain, neck pain, conditions of the articulations, arthritis, fibromyalgia, sporting injuries, neurological conditions, TMJ and cranial conditions, headaches, digestive disorders, menstrual disorders chronic fatigue, emotional depression and much more.
More about the Home Study Course
The Home Study course video provides a step by step presentation that enables individuals to learn NST at their own pace, be it over a few days, a few weeks or longer.
Most experienced manual therapists will achieve proper knowledge, fluency and confidence in their application of NST after approximately three to five days of continuous or intermittent usage and practice.
Every point demonstrated throughout the entire video presentation is further supported by a precise on-screen NST medical image, that accurately highlights the point in question.
Additionally, an invaluable point by point on-screen numbering system is displayed throughout the hands-on presentation, bringing further clarity to the steps in every procedure demonstrated.
Where required, specific relevant information and on-screen notes are provided to emphasise critical information relating to the procedure being demonstrated.
The entire video presentation is further supported by a step by step illustrated working manual (Basic Workshop manual) that accurately reflects the content, with detailed written instructions, essential information and the same medical images and numbering system as those used throughout the video presentation.
The manual may be used throughout or separately to the video presentations, and is an excellent resource, containing much essential information for clinical application of NST.
Although the video presentation and manual together provide an excellent integrated learning system alone, three additional learning enhancement strategies are provided via a highly valuable process of assessment.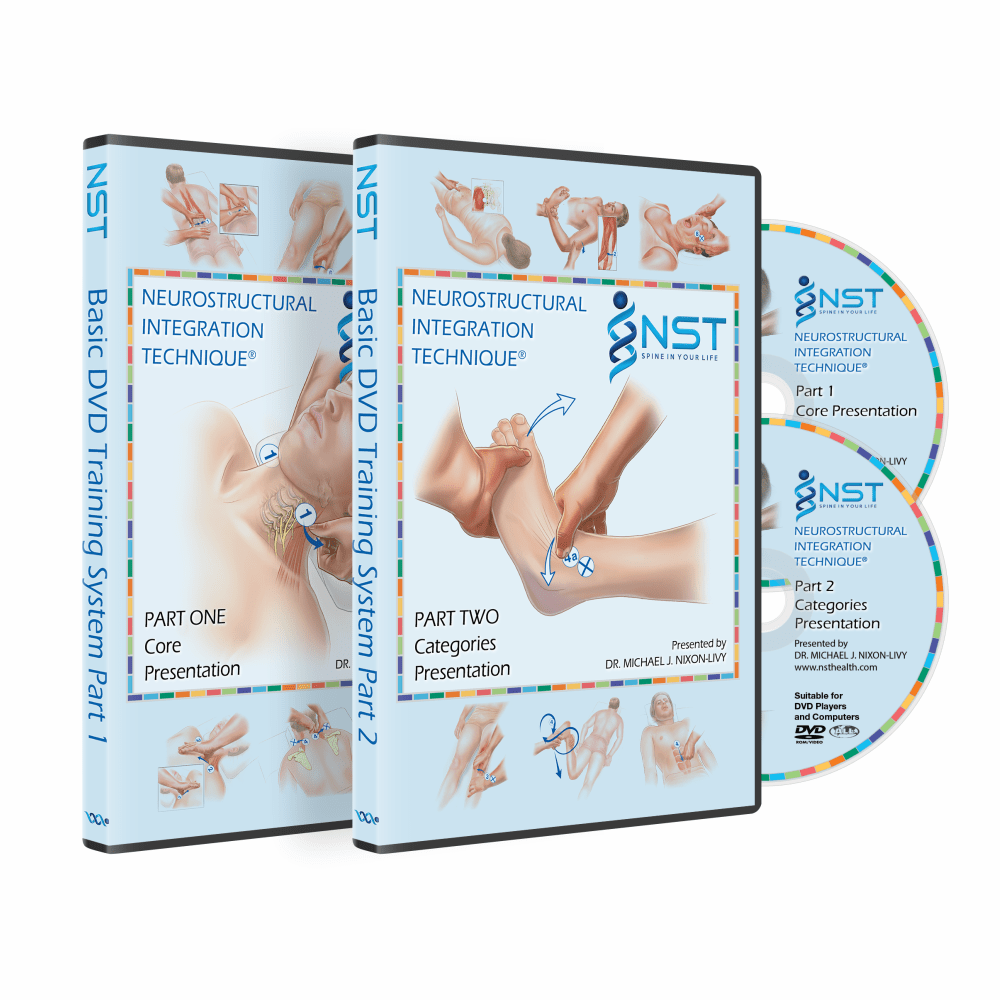 Assessment
Assessment consists of three separate parts, and is overseen by a qualified NST teacher. Full instructions for Assessment are outlined in Home Study course manual provided to every student.
Part 1. of assessment involves the student completing a 100 multiple-choice question 'verification' exam, in which a minimum pass mark of 70% must be achieved.
Part 2. of assessment involves the student providing no fewer than five written case studies, derived from patients with whom they have used NST. Each case study must consist of a minimum of two NST sessions. Five separate four-page templates are provided in Part 2. of the course manual, to record each case study.
Twenty points will be awarded for each properly completed case study. Incomplete case studies will receive fewer or no points.
Part 3. of assessment requires the student to provide a 15-30 minute video of themselves performing an integrated NST session.
The teacher will award a score for the student's performance out of a possible 100 points. The score will be based on the general approach, composition of procedures used, accuracy of application and fluency.
Once all three parts of assessment have been completed and points awarded, an aggregate score will be given, the minimum pass mark of which must be 70% to achieve certification.
The student will be critiqued via a direct video link up such as Zoom or Skype on all three parts of assessment by an NST teacher and provided with helpful feedback with points for improvement or correction.
The time allowed for the critique consultation will be 1.5 hours, however additional time may be negotiated in cases where the student and teacher agree to it being necessary to do so.
Certification
A Certificate of Achievement as an NST Practitioner will be awarded to students who successfully complete all three parts of Assessment.